SUZUKI S-CROSS
1.5 Hybrid Motion 5dr AGS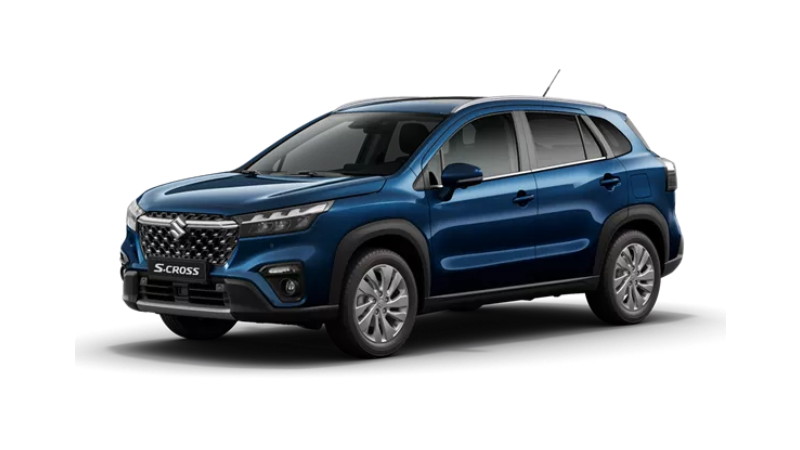 Vehicle Summary
Fuel Type

Petrol/Electric Hybrid

Gearbox

Automatic

Engine

1.5L

Insurance Group

16E

Standard Tax

£170*

CO2

118
* Please note that if the list price of a car is over £40,000, then an additional rate of £390 will be payable on top of the standard rate for five years.
Full Details
SUZUKI S-CROSS HATCHBACK 1.5 Hybrid Motion 5dr AGS: Personal Contract Hire Quotation
Contract Details
Personal Contract Hire w/o Maintenance

Total Contract Mileage
Annual Mileage

Contract Duration

30,000
10,000
36 months
Vehicle Details
SUZUKI S-CROSS HATCHBACK 1.5 Hybrid Motion 5dr AGS 23

List Price
Tax List Price
Lease Rental
£26,040.13
£26,514.00
£274.16
Totals:
£23,040.13
£26,514.00
£274.16
Rental Details
Rental Details
Monthly
Excess Mileage Charge (ppm)
Lease Rental
£274.16
Lease: 9.36p
Service Rental
£0.00
Service: 0.00p
Total Rental
£274.16
Total: 9.36p
Initial Payment
£1,644.96
Current tax list price £26,514.00 subject to manufacturer price changes.
Terms and Conditions
All Rentals and excess mileage rates are inclusive of VAT. VAT is payable at 20%. Subject to vehicle availability, credit approval, manufacturer price changes and purchases through the Suzuki Contract Hire supplier network. In the event of cancellation of an order, you will be liable for such costs to be confirmed to you in writing. - The payment terms are 1 payment of £1,644.96 (inc VAT) in advance followed by 35 monthly payments of £274.16 (inc VAT) commencing in month 2 payable by Direct Debit. - The CO2 values, BIK, Taxable List Price, vehicle specification and options are all current at the time the quotation is produced and are subject to change. The BIK value includes any applicable surcharge for diesel vehicles. - The Manufacturer may increase the List Price of the vehicle before it is delivered. If this price increase subjects the vehicle to an increased Road Fund Licence (RFL) fee, over that built into your original Quote, you will be required to pay the difference in cost, from the second year of your lease onwards. The amount of this additional charge will depend on the vehicle's fuel type. - MPG and CO2 values reflect manufacturer published data and may vary to those actually achieved during normal use. - Early termination of this contract with our agreement could result in a charge of up to 100% of your remaining rentals at the point of termination.